Lori's Qualifications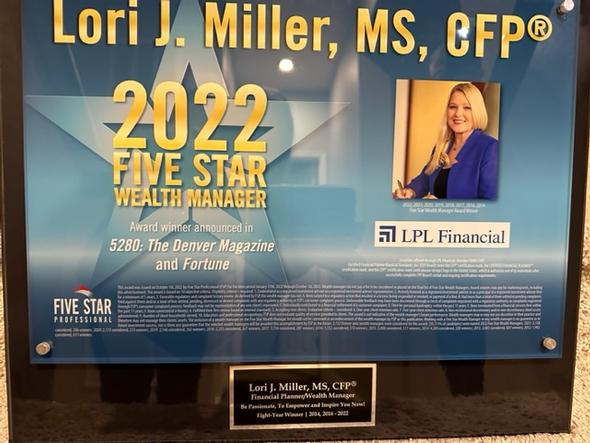 Lori J. Miller, CFP ® LPL Financial Advisor
Here, it's all about you! Our full-service, independent financial center provides a professional team that has the power to help you work toward your life goals. With abundant energy and passion for each client relationship, Lori makes time to help her clients understand key investment and insurance principals to make informed choices. Committed to being a life-long learner and a Leader of leaders, Lori brings 30 years of diversified financial, insurance and technology experience to help individuals and businesses succeed.
EDUCATION:
North Central College, Naperville, Illinois
Master of Science in Management Information Systems
San Diego State University, San Diego, California
Bachelor of Science in Finance
The Institutes, Malvern, Pennsylvania
Program in Chartered Property Casualty Underwriter
Associate of Reinsurance and Associate of General Insurance
College of Financial Planning, Denver, Colorado
CERTIFIED FINANCIAL PLANNER
TM
Professional
PROFESSIONAL CREDENTIALS:
Series 24, 7, 65, 63, and 6 registrations held with LPL Financial

Life, Health, Property Casualty and Long-Term Care Insurance License (Individual, Group, and Business Coverages)

Colorado FPA (COFPA) 2023 Chairman, 2022 President, Treasurer 2021, State Board 2020-Current, Partnership Chairperson 2020-2021, Education Committee 2020-2022

Financial Planning Association 2023 Advisory Council Colorado Chapter Representative

Active Member of Financial Planning Association (FPA), COFPA, CPCU Society of Colorado, GFWC, LWV of Denver

Former Chairperson/Past President of FPA IL West Suburban Council & FPA IL State Board

Former Founding President of BNI Achievers and past active member

Former Board of Directors Wheaton Chamber of Commerce and Ambassadors President, Government Relations Committee Chair
OTHER INFORMATION:
The mother of two young professionals (sons), Lori is an accomplished leader and speaker in her community, sharing talents with many professional associations, community service organizations, and her church. Most recently Lori received the 2022-2016 and 2014 Chicagoland Five Star Wealth Manager Award**, the 2015 "Best of Wheaton Small Business Financial Services Award*", the 2014 Exceptional Engagement Award, an outstanding leadership award from the Wheaton Chamber of Commerce, was a finalist for the Wheaton Citizen of the Year in 2013 and was the founding recipient of the Women in Business "Pillar of the Community" Award. Lori is an avid road cyclist, serves as a non-partisan debate moderator, enjoys skiing, hiking, genealogy, cake decorating, reading, and sharing time with her family and friends. Lori is an overall Gold Medal Age Group Winner for the Chicagoland Indoor Triatholon Series for 2010 and Silver Medalist for 2012 to benefit MS, and the overall Gold Medalist for her category for America Bicycle Racing in the Midwest Area Time Trial Series for 2010 and 2012. She served multiple times as a Charity Cycling Team Coach to bring awareness for diabetes, cancer and MS. Her lifelong passion is to make positive differences in her relationships and community, while helping clients work towards financial freedom. Call Lori today at (630) 690-0000 to see how she can be a value-added resource for you, your business, or loved ones.
*Award based on Client and Community Votes
**Award based on 10 objective criteria associated with providing quality services to clients such as credentials, experience, and assets under management among other factors. Wealth managers do not pay a fee to be considered or placed on the final list of 2022, 2021, 2020, 2019, 2018, 2017, 2016, or 2014 Five Star Wealth Managers.